About Shhh...God Is in the Silence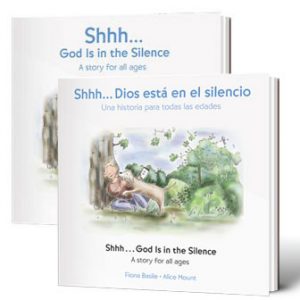 We are all loved by God and were created with the spark of God's love in our hearts. Through the gentle repetition of simple yet profound truths, Shhh...God Is in the Silence will help children realize that silence is a form of prayer—the part of the prayer conversation when we quiet our minds to listen to God in our hearts.
Perfect for:
• families looking for affirming resources to show their children that we are all loved by God
• teachers and catechists entrusted with the spiritual formation of young children
• anyone looking for a meditative reminder of silence as prayer
Fiona Basile has been a writer and photographer in one guise or another for the past 18 years. She works full-time as a freelancer, based in Melbourne, Australia. Shhh...God Is in the Silence is the fruit of a 30-day silent retreat in which Fiona participated in 2015. ​
Illustrated by Alice Mount.
In Story Monsters Ink, August, 2018, Basile talks about her relationship with God:
"I've been very strongly influenced by Ignatian spirituality, which is a practice premised on finding God in everything," she says. "I would say that my personal relationship with God is really important to me and is the heart of who I am and the way I try to live. Everything else flows from that."
After participating in an eight-day retreat and finding it beneficial for both her body and soul, Basile learned about the 30-day retreat program. "My first thought was, Wow! Who gets to do that?" she says. As soon as she had the opportunity for an extended leave… she took it.
In that same interview, Basile says she:
…has found that children respond well to the book when she reads it during school visits. "Something happens from the moment I say the first, 'Shhh…God is in the silence,'" she says. "It's so melodic and because of the way it builds using repetition, it doesn't take long for them to join in." The way Basile's book presents her message, with key phrases written over and over, helps to reinforce the basic concepts within a child's mind. "I think too often we underestimate children and their ability to have a relationship with God," says Basile.